Welcome to the 4th International Symposium on Development of CBRN-Defence Capabilities, a high-ranking international conference.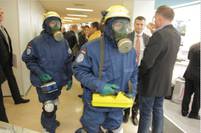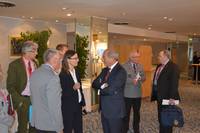 The 4th International Symposium on Development of CBRN Protection Capabilities will take place in Berlin from 3 to 5 September 2018.
As in previous years, Germany will once again provide a professional platform for encounters and exchange of the international CBRN pro-tection community. International experts will inform representatives from the fields of politics, administration, industry, academia, civilian and military organisations about latest developments in security policy and provide an up-to-date risk assessment with a view to chemical, biological, radiological and nuclear risks and the challenges they rep-resent for military and civilian systems when it comes to hazard pre-vention. The list of international participants clearly indicates that protecting against the effects and impact of CBRN dangers is a top priority around the globe. As a result, CBRN continues to be in the focus when it comes to improving preventive security measures.
The Call for Papers is now open (click here for details). You are invited to submit your proposal for a speech / poster session until January 31, 2018.
Registration for Exhibitors is open (click here to sign up / click here for the Floorplan), Visitor Registration opens in Spring 2018.